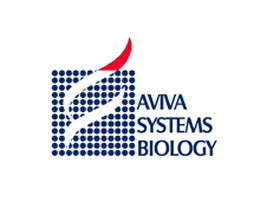 Aviva Systems Biology
Aviva Systems Biology (ASB) develops and manufactures reagent tools for gene transcription regulation research. Their high quality antibodies have the ability to target most known and putative transcription factors.
ASB is best known for high quality novel antibodies, innovative Chromotin Immunoprecipitation - DNA Selection and Ligation (ChIP-DSL) Technology and reliable custom gene transcription regulation mapping services.
Aviva Western Blot Reagent Kit
Aviva Systems Biology's new Western Blot Reagent Kits provide all the reagents required for conducting high quality, validated western blot analysis in one simple kit. Conditions and protocols have been optimized for easy visualization of each specific protein target.
Each kit includes:
Primary Target Specific Antibody - WB Validated
Positive Control Lysate - Insures Antibody is Performing Properly
Blocking Peptide - To Confirm Antibody Target Specificity
Secondary Antibody - Suitable for WB Analysis
Features/Benefits:
Includes all reagents required for running validated Western Blotting assays
Simple and validated protocols
84 kits available in a comprehensive range of key target areas
For more information please click here.