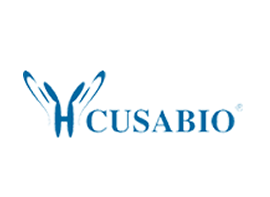 Cusabio Biotech
CUSABIO BIOTECH Co.,Ltd. is a biotech company that manufactures and sells the highest quality research, reagents and instruments. In collaboration with top level business partners in the fields of molecular biology, immunology, cell biology and IVD, Cusabio provide products and services to a broad range of customers worldwide--from academic and government research institutions; biotechnology and pharmaceutical companies; as well as hospitals, reference laboratories. CUSABIO BIOTECH Co.,Ltd. has formed an extensive Sales and Marketing management network system serving the Life Science researchers and Healthcare professionals.
An important goal is to expedite the genomics and proteomics studies. Every effort will be made to create a user-friendly system of tools for researchers. This approach enables CUSABIO to be the leader in the field of cutting-edge technology and to have a solid communication with the scientific community.
Key products of CUSABIO BIOTECH Co.,Ltd. include ELISA Kits & related products as well as other immunological reagents, such as antibodies.
Country of Origin:  China
Native and Recombinant Protein